Architectural hybrid texTILES
Innovative, creative & sophisticated finishes
Ceramics, Woods, Steels, HPL, Glasses, Stones, Leathers, UPB
Strong system, accurate produced and fast installed
Design new architectural surfaces for facades, pergolas, walls, and ceilings.
Denvelops® is the manufacturer of a new perfectly engineered surface coating system, the Hybrid TexTILES.   
Hybrid TexTILES are a perfect solution to offer a fast renovation of buildings, due to their lightness, simplicity, adaptability, design customization choices, and also their extremely accurate production, precise assembly, fast installation, and simple maintenance of the final solution.
Denvelops® technical team assists with the project design and justification, the factory assembles and prepares the delivery, and the construction management team supervises the installation of the system. 
100% registrable and fully customizable
H
ybrid TexTILES are fantastic for
INDOOR
ceilings, partitions, and wall coverings and for
OUTDOOR
facades, pergolas and sunshading structures.
Hybrid TexTILES can include all types of tiles materials and shapes. Their installation is fast, easy, and optimized for large and small surfaces.
Create your own style: Ceramics, stone, wood, metal, leather, and much more!
Our innovative SNAP attachment provides a safe integration to include all types of material, sizes, and geometric pieces in your lightweight cladding walls.
Enter the new MODELS section, discover our Hybrid Ceramics TexTILES, Hybrid Stone TexTILES, Hybrid Wood TexTILES, Hybrid Metal TextTILES and inspire your own next design!
We are architectural hybrid texTILES specialists
Include all types of material and geometric pieces to your design.
Safest, most efficient, and customized results
Fast and optimized manufacturing according to executed work and installation needs.
Reduce building energy consumption with Eco-friendly solutions
Light-weight and 100% registrable, perfect for new buildings or fast renovations.
Dry and fast-speed installation system, available in small formats or in large folded frames of 50 square meters.
Denvelops Technical assistance throughout the project 
Off-site production with minimum waste
Recyclable or reusable components
Optional functionalities, including illumination, kinetic finishes, domotic applications, integration of photovoltaic panels or ventilated facades with built-in insulation.
What people say about hybrid texTILES
Clear advantages for architects, installers and clients.
"The Denvelops façade is a light, modular and removable system and therefore easily reusable or recyclable, which makes it meet current requirements, as well as being versatile and slim."
Zuzana Prochazkova
Architect responsible for the R + D + I department at Picharchitects (www.picharchitects.com)
"An industrialized product, which allows infinite solutions regarding the finish aspect, both in format, shape, texture, color, material, etc. All assembled in a light structure, very versatile, easy to install and adaptable in any space, which makes it a very competitive product, especially in prices and possibilities.
Verified in compliance with tests subjected to resistance in time, wind, and with tests carried out in situ."
Valentí Julià Casas
Technical Architect and Manager at Serom (serom.cat)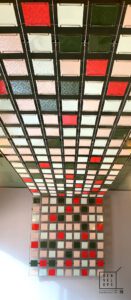 The small project, installed in "Celler Figueres", is the debut and demonstration that Glazed, and all type of Tiles with small thickness, finally can be...
Read More