Architectural hybrid texTILES
Innovative, creative & sophisticated finishes
Ceramics, Woods, Steels, HPL, Glasses, Stones, Leathers, UPB, Led Lighting
Strong system, accurate produced and fast installed…
What else? Always with the best prices!

What are hybrid texTILES?
100% off-site 100% customizable
Hybrid TexTILES are a new architectural solution that takes the best from the courtain walls facades and the metal mesh textiles.
The genesis of the system is based on to do strongs attachments between;
a) vertical and thin steel plates
b) free shape horizontal connectors together attached with a large range of tiles or bricks
This patented innovation creates an hybrid solution, in where materials like Cerámics, Woods, Steels, HPL, Glasses, Stones, Leathers, UPB…. can be easly integrated in a very creative, strong and practical way.
Inspired by the Lean Construction philosophy, Hybrid TexTILES are a sustainable solution, which encourages and promotes the reduction, recovery and recycling of all its components and materials.
Facades, sunscreens, pergolas, walls & ceilings.
Hybrid TexTILES are a perfect solution due to their lightness, simplicity, customization , and also due to their extremely accurate production, fast installation, and simple maintenance.

Hybrid texTILES can be produced in very long and wide formats, so that makes them choice perfect for all type of Outdoor or Indoor applications.
Create your own style: Ceramics, stone, wood, metal, leather, and much more!
Our innovative SNAP attachment provides a safe integration to include all types of material, sizes, and geometric pieces in your lightweight cladding walls.
We are architectural hybrid texTILES specialists
Include all types of material and geometric pieces to your design.
Safest, most efficient, and customized results
Fast and optimized manufacturing according to executed work and installation needs.
Reduce building energy consumption with Eco-friendly solutions
Light-weight and 100% registrable, perfect for new buildings or fast renovations.
Dry and fast-speed installation system, available in small formats or in large folded frames of 50 square meters.
Denvelops Technical assistance throughout the project 
Off-site production with minimum waste
Recyclable or reusable components
Optional functionalities, including illumination, kinetic finishes, domotic applications, integration of photovoltaic panels or ventilated facades with built-in insulation.
DISCOVER OUR KINETIC FACADES
Love the movement? And competitive solutions? Hybrid TexTILES are perfect to do kinetics facades
Just modifying the attachment between the connectors and the wires, the tiles can be free attached to let them dance with the wind.
The best, is that with Denvelops kinetics projects will be produced off-site, and installed in big formats in a very fast, optimized and strong way.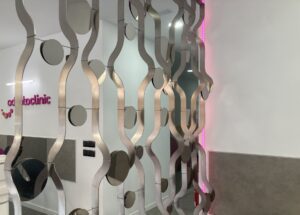 Once again, and thanks to the artistic potential of Denvelops systems, the design of the project is based on the logo and values of the...
Read More