Denvelops® (a company specialized in architectural hybrid texTILES) and Seedstudio (specialized in the development of computer plugins) have developed a new software to facilitate, enhance and open new paths in the design and manufacture of double-skin architectural coatings.
In Denvelops®, before their new hybrid texTILES architectural coatings came to  market, knew that the simplicity in parameterizing their system, was opening a new opportunity window to develop a new software to assist the design,  manufacturing, installation, and useful life phases of their projects.
Denvelops® proposes a new construction system for outdoor and indoor coatings with small format pieces. They are projects manufactured digitally, assembled off-site and installed quickly without wastes. A recipe that also allows Denvelops to offer highly customized solutions without losing competitiveness.
However, to manufacture textured projects, architects need to design them… And it is easy to understand, that managing a customized design composed of thousands of pieces is not a small task, especially if you want to mix different colors and
materials, and above all, obtain a brilliant result. These types of proposals consume a very high number of resources -especially in the design and construction phase of the project- if the  solution with the advantages offered by Denvelops® is not available.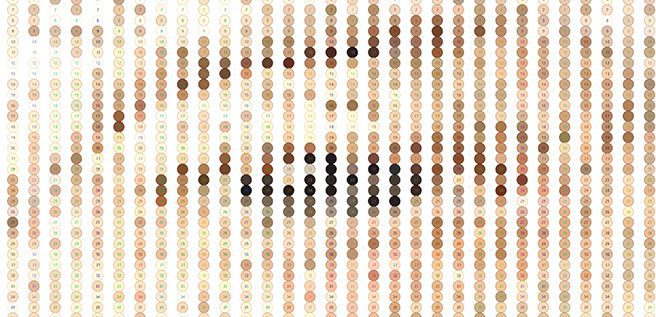 The new software developed by Seedstudio® and Denvelops® is about that. It not only consists of digitizing and parameterizing their construction system, it is about to generate helpful tools so that architects can consider these types of designs without fear that this process will become eternal and tedious, where design costs skyrocket. 
For this, Seedstudio® has developed DEEB, the main basis of the new Denvelops® operating system, from which multiple tools can be integrated, and not only design tools, other tools more functionals, such as cost calculation, fixing points, energy efficiency, among others can be integrated as well. Besides, thanks to automated procedures, the most energy-efficient solutions can be found.
In this first version, SeedStudio® and Denvelops® have focused on developing a series of tools (Gradient of colors and shapes / photography module / pattern management) to get thousands of options and adjustments for the Design of the desired project.
Not any user can use this technology, for its use it is advisable to have knowledge of Rhino and Grashopper, platforms where you can already freely download the Denvelops plugin, and from which you can easily export your results to other architectural drawing programs.
Likewise, SeedStudio® has launched a free training course, to learn to use the plugin or helping architects to develop their own tools to integrate them into DEBB. For any questions or additional information contact www.seedtudio.com or  www.denvelops.com.