Once again, and thanks to the artistic potential of Denvelops systems, the design of the project is based on the logo and values of the firm.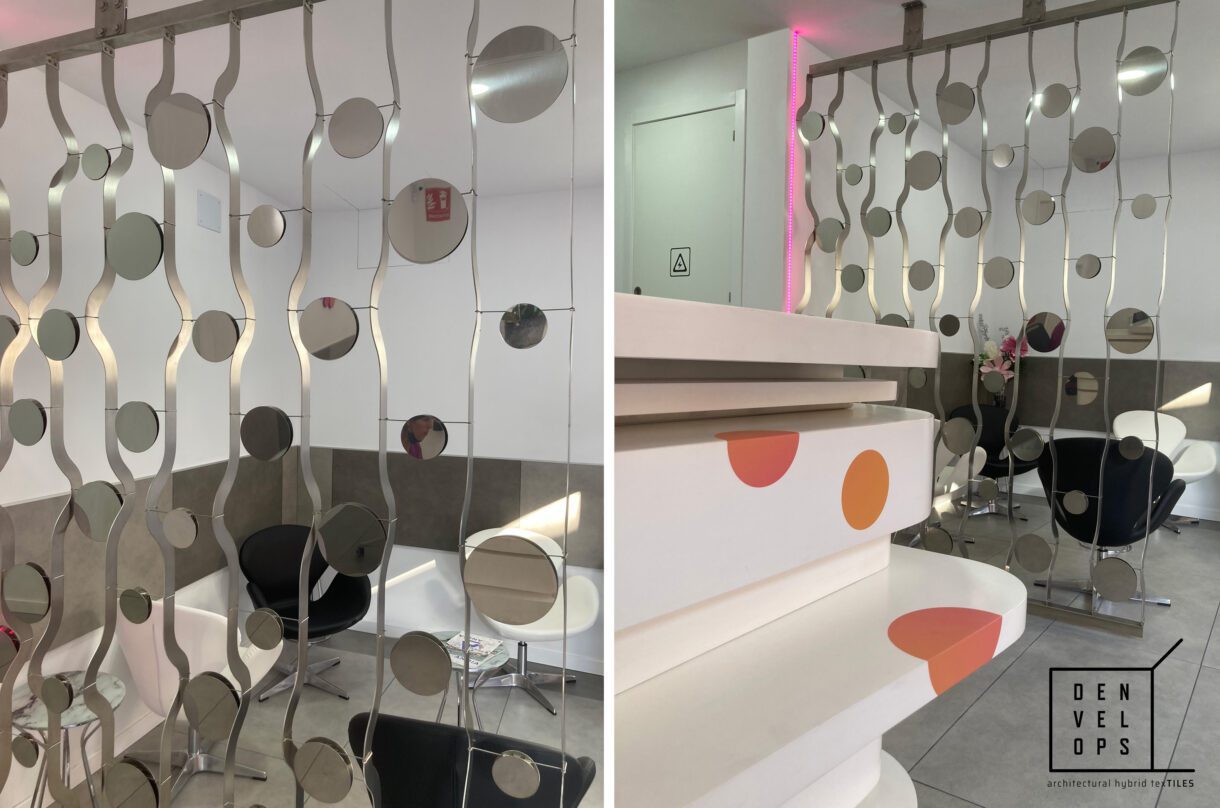 Recently, has been installed in Igualada the first interior lattice using hybrid textiles, in this case, finished with stainless hybrid texTILES.
This new project explores the design possibilities of hybrid texTILES according to the following items:
Use of "Lines" with alternating curves, in satin stainless steel.
Set of double tiles of shiny stainless steel, of different sizes, installed in kinetic mode with hidden fixings.
Quick and efficient installation using a format of 2'4 x 2'1 meters, fixed to ceiling and floor only with 4 anchors.
The result is an interior wall, in latticework, which is very resistant to the touch despite the high transparency of the solution adopted. The lower anchors allows to have some small movements to allow the whole assembly to vibrate (manually) causing a posteriori the movement of the rest of the pieces and their reflections as well.
The fixing system of stainless-steel discs (tiles) is fully registrable which allows to take advantage for cleaning, or change of positions, or even change its design according to the communication, advertising or marketing needs of the company in the future.
At least, this project is new and different, yes, but always based on the intrinsic advantages (aesthetic and constructive) of hybrid textiles, used for lightweight double-skin coverings, both in OUTDOOR applications (lattices and pergolas) and INDOOR applications (ceiling, wall or partition coverings):
Aesthetics:
All kinds of materials (wood, ceramic, stone, metal, photovoltaic) and shapes (bricks, tiles, tiles, tiles) can be used and combined thanks to the new adjustable fixing system SNAP ATTACHEMNET.
Open design system that allows organizing the layout of the pieces in infinitely different patterns (download two collections with different proposals and examples on the website).
Ability to develop curved surfaces.
Shadow control: The orientation and position of the pieces can be adjusted in the three XYZ planes.
Dynamic effects through the kinetic fixation of the pieces.
Light texturing through the integration of Led lights.
Constructive:
Digitized, lightweight and optimized system, manufactured by CNC.
Plugin Denvelops to design and manage complex projects; mixture of many colors -or images-, as well as design with complex or evolutionary patterns.
100% industrialized coatings, produced in the factory, and transported and installed in large formats that are installed quickly without waste or loss.
Free modulations. Ease of integration in new construction, in progress or rehabilitation.
Reduction of energy consumption in outdoor spaces.
Improves acoustic conditioning in interior spaces.