This new type of screwless attachment allows a resistant and strong subjection for all types of tiles materials to the Denvelops system, which becomes 100% registrable and more customizable than ever.
Check out the latest innovations on Hybrid TexTILES materials and designs for façades, pergolas, walls, and ceilings solutions in the new section MODELS on our web.

In Denvelops we are in love with innovating and improving what we do. From the start, we knew we had to develop new solutions that could be used universally, for all real types of pieces, materials, shapes, and applications that an architect could imagine. We set our ambitions very high, so the researched solution was not only about developing a universal fixation for all geometry and material pieces, we also include additional requirements.
First of all, the fixation had to be robust and safe. Secondly, it should not involve the use of screws for its assembly, to achieve a 100% registrable cladding wall. This implies that the installation of the system, its cleaning, its maintenance, and its access to the back wall support would become faster and easier than ever. Finally, the solution should generate the same aesthetics for the facade from both sides, very important for lattice uses.

Our objectives are to provide the best solutions to people and to the world, aiming to reduce building energy consumption, by regulating the sunlight received, and to improve the quality of life. In Denvelops, we do it by offering friendly fully customized designed, sustainable, ecological, and efficient projects.
Our next step was to develop a solution that was suitable for all architectural designs worldwide regardless of the type of pieces, material, or shapes used, and we have made it by designing a system that can be adapted to fix all of them.
INNOVATION

The resultant innovation is the SNAP attaching. This innovative static fixation breaks the current limitation on material selection and allows you to include all types of material and geometric pieces in your lightweight cladding walls, without the need for screws. The screwless resulting fixation is very strong, static, and allows the safe integration of all types of materials into the design, it is 100% registrable, and symmetric on both sides of the cladding. Also, the overall cladding configuration can be fully customized to optimize the shading area on the building wall and adapt the design of the openwork cladding to your aesthetic and technical requirements.
Denvelops team is very excited about this innovation since its features make it also perfect for OUTDOOR and INDOOR applications, especially in technological buildings where most of the ceilings and some walls -as well- are full of installations, and having access behind is highly appreciated.
The SNAP connection allows you to use an infinite diversity of geometries, shapes and design of pieces, as well as a great variety of materials, such as ceramic, stone, wood, among many others that you can now consult on our website.
SNAP offers so many synergies to the Hybrid TexTILES that we have even updated our website, to show some of the categories of our new Hybrid TexTILES ordered by type of materials.
Enter the new MODELS section to learn about the new possibilities offered by Hybrid texTILES and inspire your own next design. In Denvelops we will be happy to make it come true.


SMART SYSTEM
Commitment to innovation is limitless. So far, Denvelops has developed a large variety of lightweight hanging façades, pergolas, walls, and ceilings which include customized designs that can integrate functionalities such as piece-by-piece LED lighting, kinetic finishes that move with the wind, integration of photovoltaic energy systems, and even ventilated facades with built-in insulation.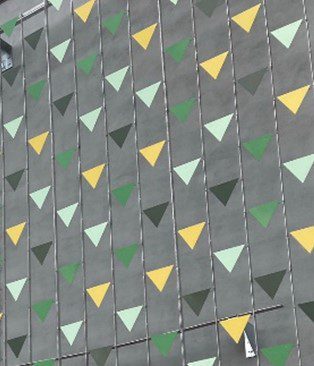 Hybrid TexTILES have become a perfect solution to offer a fast renovation of buildings, due to their lightness, adaptability, design customization choices and, of course, extremely accurate production, precise assembly and easy installation, as well as simple maintenance of the final solution.
Hybrid TexTILES can also be used to develop single-curvature coatings and occasionally for double-curvature areas.
The integration of our new SNAP attachment for static fixing is the key to integrating all types of materials, shapes, and geometry of pieces, in a 100% registrable cladding, with customized openwork, with a design optimized to suit your shading requirements, and with incredible aesthetics on both sides.
INSTALLATION

In Denvelops we are experts on kinetics and statics lightweight façades, pergolas, walls, and ceilings systems. The components of the Hybrid TexTILES are practically produced by 3D printing, thanks to CNC technology. This fact allows us to virtually develop each solution, and produce all our project components and assemblies, with total precision and accuracy.
Thanks to optimized cutting processes and 100% recyclable Denvelops component materials. the production system is efficient and environmentally friendly and no waste is produced.
Hybrid TexTILES are fantastic for INDOOR and OUTDOOR applications, thanks to their adaptability to include all types of tiles, and to their installation system, optimized for large and small surfaces.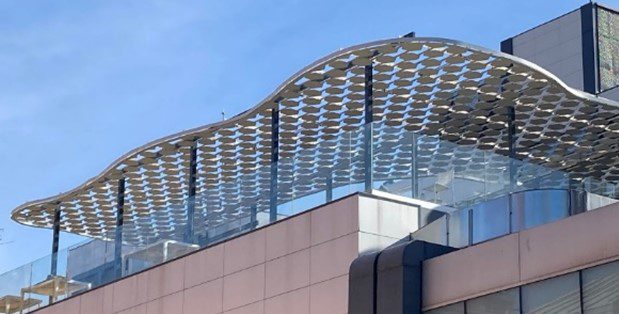 One of the main attractions of Denvelops solutions is their fast installation. In exteriors, installers can obtain up to 500 square meters of façade per day, reducing the cost and time of the operation. For interiors, the more standardized and versatile formats allow for easy installation with standard fixings.