The design of the project based on the company's logo perfectly represents and transmits its values, while achieving the attraction effect that a corporate façade should generate.
On the same basis as the kinetic and corporate façade project for Futbol Club Barcelona, in the Johan Cruyff Stadium, designed by the Batlle i Roig architecture team, the company Rehabilitacions Pons (https://www.rehabilitacionspons.com/) decided to take the same path, but on a smaller scale.
Rehabilitacions Pons recognized the advantages and synergies that Denvelops hybrid texTILES could bring to their business:
Reduction of energy consumption in buildings
Industrialized: Reliable, with less waste and quick installation.
Customized: Façade with the corporate branding included. Transformation of the logo into a piece of architecture for the development of a corporate project. Integration of the company name attached to the hybrid texTILES but positioned in front of the façade.
Functional: Choice of kinetic finish to attract attention and convey a sense of dynamism with respect to your company's philosophy.
Sustainable, reusable and recyclable.
The results speak for themselves. Indeed, the project reduces the solar incidence, which decreases the heating of the building's interior. The installation was carried out without wastage or failure, and in a single day by two people – it couldn't have been easier.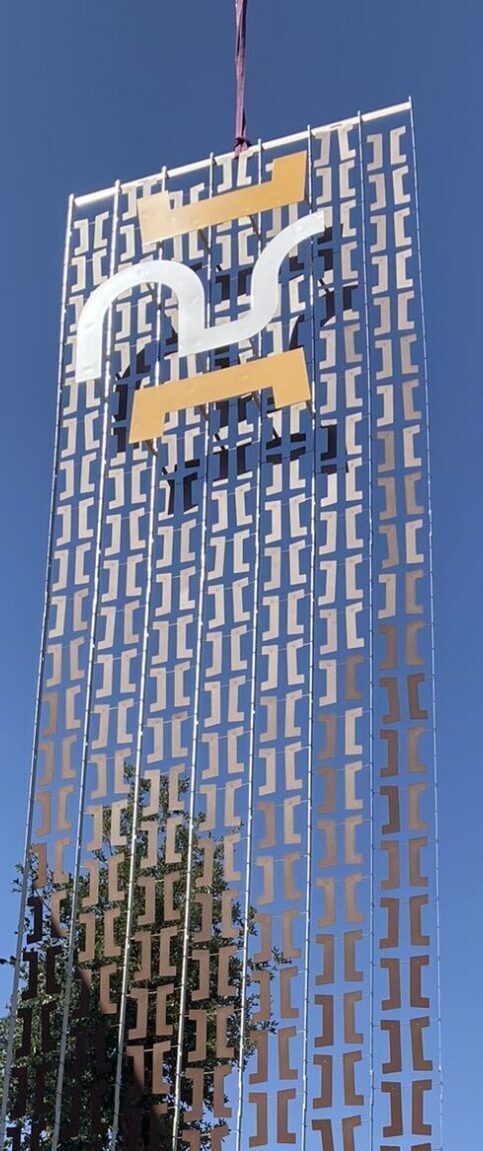 The design, suggested by the client and developed by Denvelops, complies perfectly with the values that a corporate façade must fulfill, thanks to the integration of a part of the logo to generate the tiles and the texture of the façade.
On the other hand, the integration of the company name sign in front of the façade allows identifying its location from a great distance. Additionally, the kinetic finishing selected elevates the design to another level. The movement of the pieces evokes the dynamism of the company and creates a memory that will be permanently fixed in the memory of its visitors.
Last but not least, the values, advantages and characteristics of the hybrid texTILES are totally in line with the values that Rehabilitacions Pons wishes to promote. The fact that Denvelops projects can be decomposed at the end of their useful life to reuse their parts or recycle them easily, or that they are manufactured in the workshop with practically no waste, or that the whole process is precise, not only at an aesthetic-technical level, but also in economic terms, are crucial differential values, which are now becoming decisive for companies, which increasingly want more than just a corporate façade, and are investing in sustainable systems that reduce energy consumption, that present an attractive, eye-catching design, and which are very sustainable.
Are you thinking about a corporate façade? Visit www.denvelops.com and discover all the models, materials, and finishes available at Denvelops.
Consult with Denvelops and discover thousands of synergies to transmit the values of your project.