Denvelops collaborates with a prestigious design firm to develops a corporative architectural skin for a housing building.
Last 20th December Denvelops finished the construction of a new architectural skin. This project came thru MOS studio, a great design company specialized on industrial design and corporative branding jobs. One of them customers had a new building promotion were Denvelops results to be the perfection election to improve the aesthetics of the area.
This has been the first project in were the architectural project has been shared between a design studio and Denvelops Technical Office. And that opens a new opportunity to discover new results by working from new points of view.
Mos studio knew exactly what corporate façade designs could fit better with all the company branding design, and the Denvelops Technical Office, formed by architects and engineers, had the knowledge to do the technical project needed to get the construction license for the façade.
Technically, the design, production and installing phases of the project were very satisfactory. All request inputs from the different project actors (designers, engineering, installer and customer) were able to be achieved.
Designers
Maybe they are not architects, but they also know very much about design, so they fast started to do produce many beautiful design for the façade, in many patterns configurations, tiles and colors, to check how this architectural skin finally would had to be.
It was really good to check that designer are vey used to work with empty canvas that can be treat or pained pixel by pixel a big surface to communicate something.
Finally, Denvelops was asked to do a tiles with a shapes that regards a horse head, this tiles were asked in four colors. These 4 colors tiles were composed in a regular pattern to create a nature texture.
Denvelops goal was to reproduce this pattern colored skin drawing to something real without losing any detail, and thanks to the customization options of the system it was easy and fast done.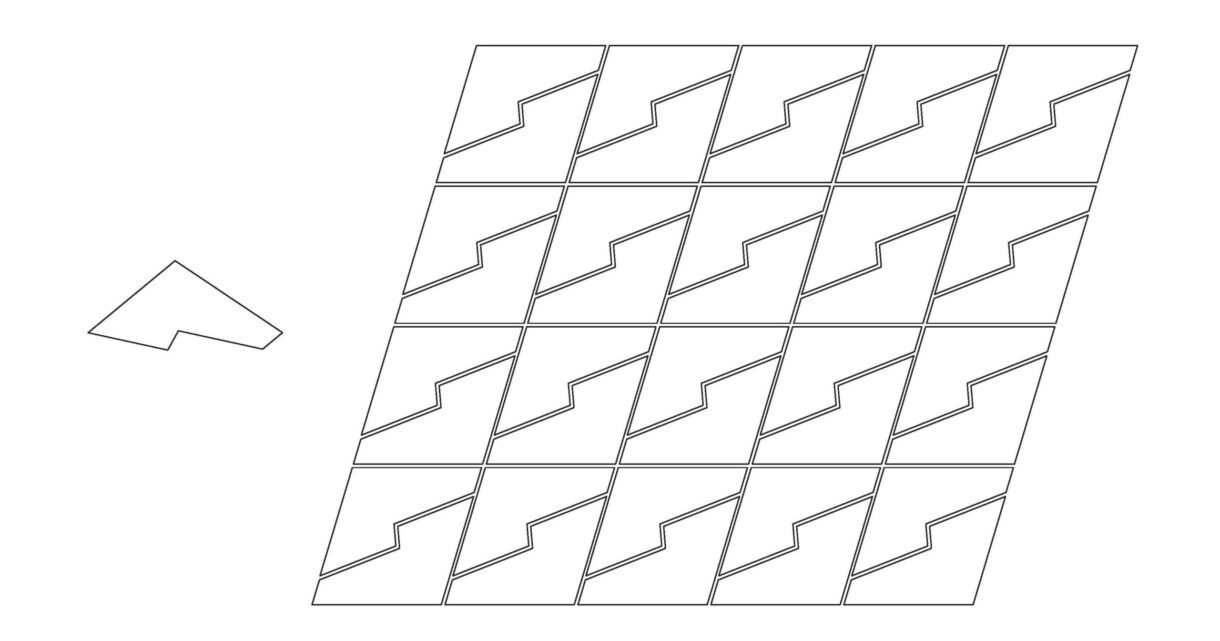 Engineering:
For the engineering the Denvelops Technical Office had to take -lets say- until the limit its load line system and its wind retention system. Once again, the Denvelops open system could be modified to do what was needed.
The main point of the existing wall were the architectural skin was going to be hanged, is that it was -and it is- a old terracotta wall composed by to layers, the inside layer was made of structural brick that stands all the buildings loads (walls and slabs), the other layer -outside sited- was done by thinner bricks. This second layer had the function to protect again water and cold weather the first layer. So, in fact, this time our architectural skin should be called a "third skin façade" instead of a "double skin façade".
The point was, that between the two layers there was an empty space of 10 cm, only divided by some large terracotta separated columns that connected both layers. That columns were the only point where was able to fix the chemical screws for the anchors. Normally the load and the wind line are attached to the slabs in distances of 1 meter separation, but this time we had to go up to 3 and 4 meters of separation. That increased as never before the section dimensions of the load line (100.100.10 mm profile) and the wind line (100.10 mm wind profile). Also, to reduce the loads requests over this old wall, it was decided to increase the number of wind lines so that each screw over needed to stand less loads.
Installer
Due to the old terracotta wall the installation process was a little bit slowly from the standard, but in the other side, it was very sure. Installers are used to work in this type of walls and they felt confident with Denvelops system because the architectural skin produced was very light (about 15 kg/m2) and its anchoring system allow the system to have dilatations due to external changes of temperatures.
The project was fabricated in 7 pieces of 10'4 meters long, and for the first time, a test was done by doing one of that pieces of 2'10 meters wide. So, in just one crane operation of 15 minutes, 20 square meters were installed! That wide is vey interesting to produce in order to take the maximum profit of the transport and the reduce the operations with the crane.
No news are good news, and this time, no almost no wastes were done while the installation of the 115 m2 was going on. Our lean construction philosophy once again had result satisfactory.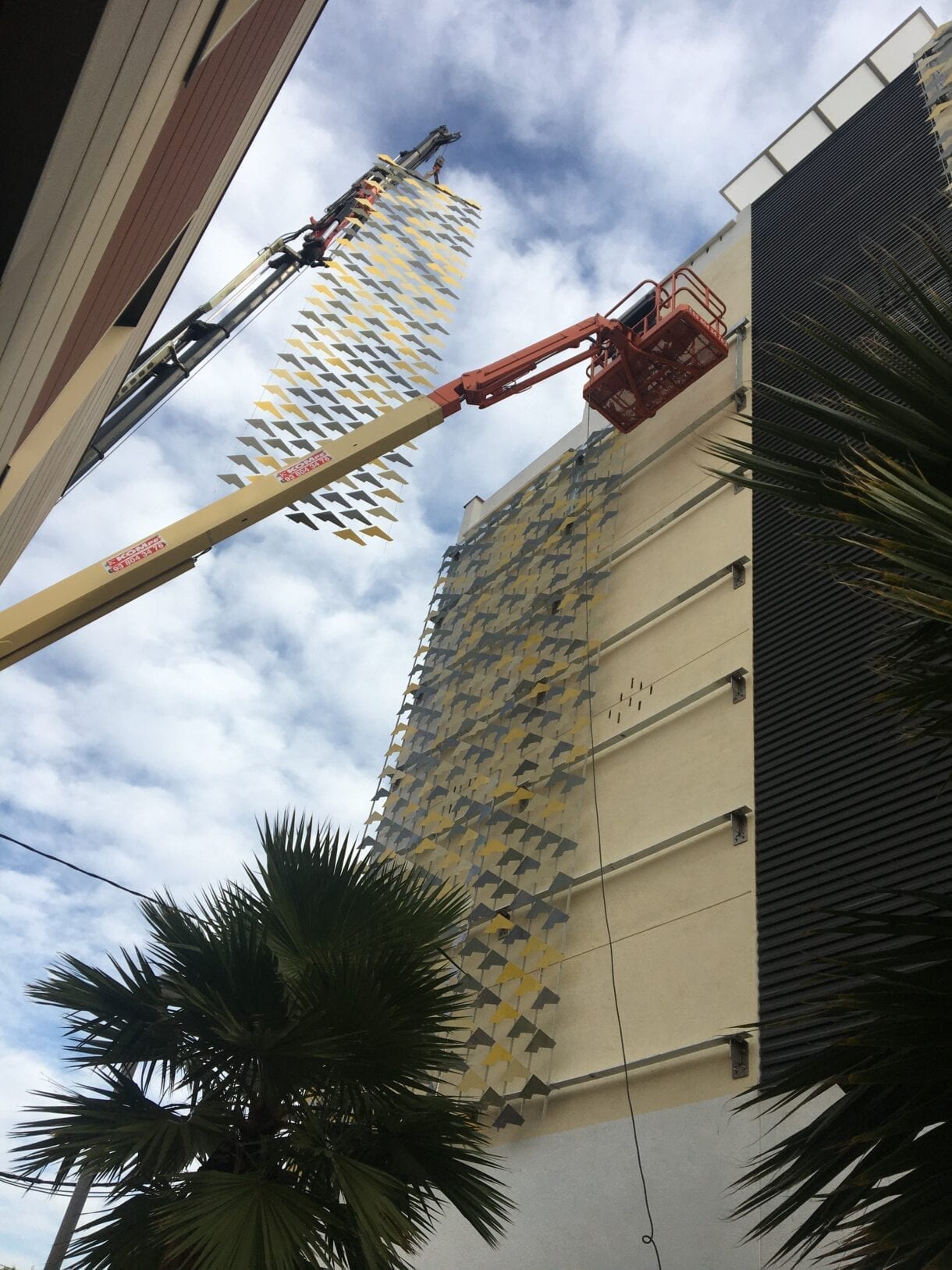 Customer
As is said in all Denvelops projects; customers' needs the next items: the best project, a good offer, a better production time and a faster installing process.
Work in a existing housing building with people living in is never easy. Noises and large installing process mas be avoid in order to get a good feedback and also get, the best benefits of project.
Denvelops has demonstrate it is a very good system for fast renovating building. Besides and what has been more surprising for them, is that this fast renovation does not need to be done with a boring or generic project. With Denvelops has almost the same difficulty and economic effort to do this fast renovation building with a sophisticate and vey customized project.